REMEMBERING THE NOSTALGIC ISTANBUL IN ANIMATION: CONSTRUCTION OF THE CULTURAL IDENTITY OF THE ISTANBULITE IN "RAFADAN TAYFA: DEHLIZ MACERASI"
Dilara Bostan (Turkey)1; Mesut Bostan (Turkey)1
1 – Marmara University Communication Faculty
Dilara Bostan
Dilara Bostan, Ph.D. Currently working in the cinema department at Marmara University. Her works are about Representation on Walt Disney's Animations. Her research areas are animation studies, gender,
Mesut Bostan
Mesut Bostan is a Ph.D. candidate on communication sciences in Marmara University working on a thesis about Turkish cinema of the 1960s. His research areas are the sociology of Turkish Cinema, ideolog
Abstract
"Rafadan Tayfa: Dehliz Macerası" (Fidan, 2018) is a film based on the series "Rafadan Tayfa" (Fidan, 2014-) broadcasted at TRT Çocuk TV Channel. TRT Çocuk is established in 2008 as the first children channel of The Turkish Radio and Television Corporation (TRT) which often presents its original productions to its audience. "Rafadan Tayfa", one of the most popular productions of the channel, introduces neighborhood culture to children in a joyful way. The series presents the adventures of a group of children calling themselves as Rafadan Tayfa and living in an old Istanbul neighborhood. Cultural codes of the neighborhood life in Istanbul in the 80s are revealed throughout the series. TRT Çocuk has a 360-degree media production policy, that is creating products related to its content on different platforms like children magazines, theatre plays, online games and so on. "Rafadan Tayfa: Dehliz Macerası" is the cinema film extension of the series. The script of the film is tailored for a larger audience group, thus making Istanbul as the focus of spectacle and narrative. It tells the story of the children saving the neighborhood from destruction because of a building project on that area. Hence, the film seeks to construct a sense of Istanbulite identity in the age of massive transformation in the city. In this study, we will try to analyze how the Istanbul image is represented to construct a "cultural identity of the Istanbulite" in "Rafadan Tayfa: Dehliz Macerası".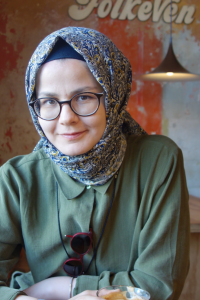 1 – Dilara Bostan (Turkey)
2 – Mesut Bostan (Turkey)